Flower baskets:
to whom and when to give?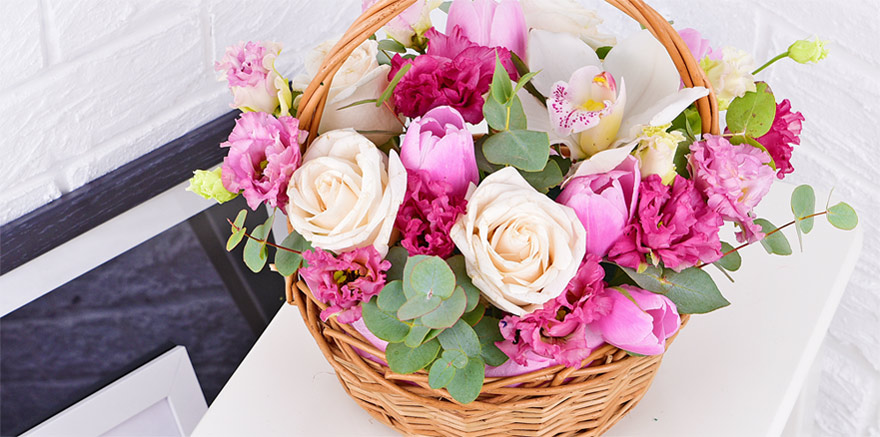 «Flower baskets fragrance for the soul, and so insanely good & raquo!;
Received as a gift flower baskets improve mood, fill the gray days of bright palette of life-affirming. They can give for any occasion: a reason or just because. But the choice of baskets of flowers shows the significance of the special day, and increased attention to the gift recipient.
Undoubtedly, all have become accustomed to the classic bouquet. But at the same flowers in a basket look no less elegant and unusual.
fresh flowers in the basket are often timed to coincide with Women's Day, anniversary, wedding, birthday of a loved one. Elegant composition can serve as a separate gift, and in addition to the main show.
The difference in giving
a gift to men
A significant gift is appropriate for both men and women, but it should take into account the basic rules. For men choose brutal baskets with high sides, without decoration. For example, a basket of red carnations and roses suitable for men of all ages.
Original present are gerberas, tulips, peonies, dahlias. Appropriate option would be male basket composition with exotic flowers - lilies, roses, lilies, protea.
Ladies Present
Give flowers to women depending on the level of feelings, age and preferences.
For girlfriend should opt for a basket of flowers with a predominance of pink and white shades. Classic roses, orchids, gerberas and hydrangea with delicate decoration will impress even the most demanding girl.
Women over 30 years of the most severe fit dark red flowers. A young girl will not leave indifferent basket shrub roses in various shades, with white lilies or bright pinks.
Colleagues better choose the neutral composition without a hint of any personal feelings. Fit bright colors, bearing an immense positive energy and fun. Therefore, it is appropriate: carnation, chrysanthemum.

Olga Butorina
- Manager Specialist«Grand-Flora»
«year-round demand for a basket with roses. In this color scheme is better to choose light colors & raquo ;.
It is not necessary to give a lover or spouse a yellow color flowers besides a mimosa on March 8, which represents a symbol of spring. Allowed an extravagant bouquet of yellow, only if his chosen lady herself.
Not to be trapped, it is desirable to know the taste of relatives of women!
The range of baskets
Florists offer a huge range of choice of flower baskets:
large volume basket - is the best choice for a memorable anniversaries and events.
small - it is primarily a sign of your attention, respect and care
Flower baskets for women are doing more curvaceous, men–more rigorous. And, most importantly, do not forget about a couple of warm words! Sincerity and openness is valued no less than the gift itself.
If you have difficulty in choosing the composition, it is necessary either to rely on your own taste or professional advice management Grand Flora.

On our site you can order a flower basket with round the clock delivery to anywhere in the world!