Buy bouquets of roses in Moscow

Огромный выбор букетов из Разных роз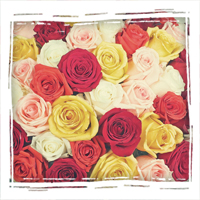 Букеты из роз очаровывают своей изысканной красотой. Розы могут передать совершенно любой настрой: торжественные красные оттенки станут презентабельным подарком к юбилею, а если вы хотите подарить свою нежность - выбирайте букет в утонченных пастельных тонах и Ваш получатель будет покорен. Розы отлично сочетаются с другими цветами, дополняя и разбавляя их.
Не имеет значения, где Вы сейчас находитесь, ведь заказать цветы в другой город с доставкой, проще простого. Выбирайте в каталогах нашего интернет – магазина Гранд-Флора букет из роз, оформляйте несложную анкету и уже через каких-то несколько часов Ваши близкие получат шикарные розы. Букет Вы можете дополнить подарками, которые найдете на сайте, это и подарочные наборы, и конфеты, и воздушные шары, а также масса других удивительных вещей.

Delivery to any city in Russia
Start typing the name of the city, and we'll show you
International Flower Delivery
We did not find the required location                     
Call us at
8 (800) 333-01-95
 and we will help you.
Our best stocks